Orange Juice: Most Versatile Cocktail Ingredient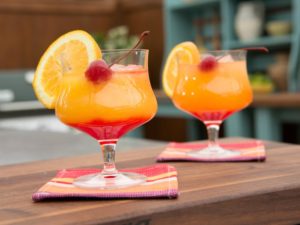 If you ask shrewd bar managers and restauranteurs in The Colony, the key to having a well-stocked bar is always keeping a supply of orange juice ready to go. To create the tastiest orange juice cocktails, it's strongly recommended to grab a package of oranges and freshly squeeze the juice. However, if you don't have the time or motivation to get crafty and make some fresh-squeezed OJ, you can simply pick up a bottle of your favorite orange juice from your local supermarket and get your inner mixologist ready to mix up some delicious drinks. And those don't have to be just the basics everyone knows, like the screwdriver.  Not only is the fruit-filled orange flavor extremely versatile, but with these boozy orange juice cocktail recipes, your guests' taste buds will surely be left craving more.
The Tequila Sunrise Apart from the Screwdriver, the Tequila Sunrise is an extremely popular drink that's always a crowd pleaser. To make, simply shake together tequila and orange juice, making the alcohol strength to your liking. After pouring the mixture over an ice cube filled glass, add a touch of grenadine, allowing the red, sugary liquid to settle at the bottom of the glass, and garnish with a maraschino cherry and orange slice. Want to change it up? Elevate your sunrise by substituting tequila with bourbon and adding in simple syrup and lemon juice for a sour-twist on the classic cocktail.
The Bocce Ball The Bocce Ball takes the iconic Screwdriver and adds a dash of amaretto to give the drink a little almond flavor. Whether you're having friends over for brunch, celebrating a special occasion, or looking to shake-up your Saturday night, simply combine vodka and orange juice and top it off with a splash of amaretto for a sweet new take on one of America's favorite cocktails.
The Creamsicle This nostalgic drink will transport you back to those years as a kid when an ice-cold frozen treat would give you some much-need relief on a particularly hot afternoon. The Creamsicle is packed with fun and is guaranteed to delight your tastebuds. To make, mix together vanilla vodka with orange juice and top it off with a nice swirl of whipped cream.
The Hurricane The fruity, tropical taste of OJ makes it the perfect ingredient for cocktails, transporting you to an island oasis. Adding a citrus mixture to your drink will create the perfect harmony between the liquor and fruit flavors of the beverage. The hurricane is made by combining 2 ounces of light rum, 2 ounces of dark rum, 1 ounce of orange juice, and 2 ounces of passion fruit juice. Top it off with a splash of simple syrup, grenadine, and lime, and garnish with a maraschino cherry. Whether you're preparing a romantic dinner for two, having friends over, or celebrating an upcoming birthday, these 4 boozy orange juice recipes will not disappoint. You will surely be the talk of the party next time you make a splash with one of these special cocktails. Enjoy these with some nice BBQ for extra yum.