Have Your Booze and Eat It, Too: Our Favorite Alcoholic Popsicle Recipes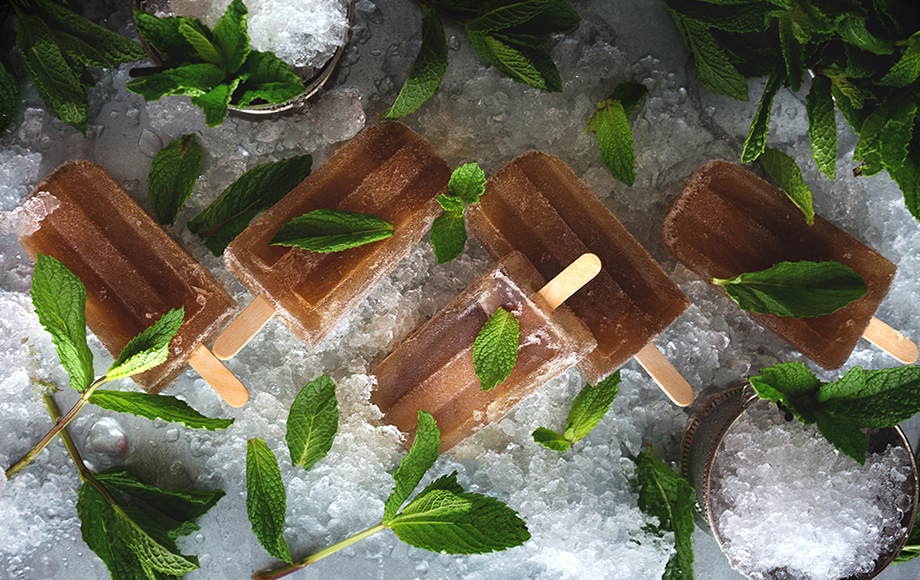 When you look back on your favorite summers as a kid, what kind of things come to mind? For us, it's Slip 'N Slides, water parks, baseball, and popsicles. Just thinking of that twinkling sound of the ice cream truck still gets us excited, and we become nostalgic for those sugar-filled days of sunshine and freedom. Sadly, summer comes to an end in just over a month. (We know, we know: But someone had to be the bearer of bad news.) Thankfully there are plenty of ways to celebrate these last few days, and our favorite is with a treat inspired by the past. Popsicles don't just have to be for little kids, you know. All you've got to do is add some booze. Below are five of our favorite alcoholic popsicle recipes, each with a different base liquor. Make a big batch for a backyard barbecue or stay cool on the couch while catching up on Netflix.
Blueberry Basil Martini Popsicles: Vodka, blueberries, basil, sugar, and lemon juice See recipe
Gin, Cucumber, and Lime Popsicles: Gin, cucumber, sugar, mint, lime juice, and gelatin See recipe
Grapefruit and Tequila Paloma Popsicles: Tequila, grapefruit juice, orange juice, club soda, simple syrup, and lime juice See recipe
Mint Julep Popsicles: Bourbon, sugar, and mint See recipe
Watermelon Mojito Popsicles: Rum, watermelon, lemon juice, simple syrup, and spearmint See recipe For you wine and beer lovers out there (who also happen to have a sweet tooth), we've also included two extra recipes to fit your tastes.
Red Wine Fudgesicles: Red wine, dark chocolate, and milk See recipe
Beer Float Popsicles: Chocolate stout beer, ice cream, and sugar See recipe
Making popsicles at home couldn't be easier if you have your own mold. We're fans of this 6-piece set from Ozera, which is affordable, BPA-free, and dishwasher safe. Time to get cookin' freezin'.