Spring Blush Recipe from Our Favorite San Francisco Bar
Today we have a guest cocktail from Michael Cecconi of Two Sisters in San Francisco. Two Sisters is a cozy neighborhood bar that offers craft cocktails created with the love and care a chef gives to his dishes. The bar has a literary theme, and prides itself in offering a book club along with their boozy concoctions.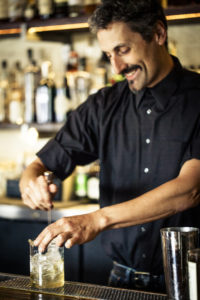 Cecconi has been bartending at Two Sisters since he moved from New York City. He was chosen by the San Francisco Chronicle as an "SF Bar Star" and his drinks were featured on the Today Show. Which is all just to say, Cecconi knows his cocktails! We'll let him take it from here. I made the following cocktail for Two Sisters bar, in celebration of the season. I've been in love with infusions lately, and have featured them in all three of the new cocktails I've built for my bottled cocktail Indiegogo campaign. We thought it would be fun to feature an infusion from an unexpected Spring ingredient. Rhubarb is commonly used, along with strawberries, in spring pies. When was the last time you used rhubarb in a cocktail? Here's what we mixed up.
Spring Blush 1 ½ oz gin 1 ½ oz rhubarb stock (see below) ¾ oz fresh lime juice ¾ oz simple syrup 2-4 dashes Regan's Orange Bitters Combine all ingredients in pint glass/mixing tin. Add ice, then shake & strain into rocks glass. Add fresh ice, and garnish with rhubarb slices that have been gently poached in simple syrup.
This is the first produce to show up in the market each year. This drink celebrates the pungent, earthy flavor of this bitter plant (one of the key ingredients of Aperol and Campari) without dressing it up, or relegating it to secondary status.
Rhubarb Infusion Stock 1 lb. clean, sliced rhubarb ½ lb. peeled, sliced ginger enough water to cover by 1"" Place ginger and rhubarb in pot, cover an inch over with water. Bring to boil, reduce to simmer until roughly ¼ of the liquid is gone. Let cool, then strain out solids using a fine metal strainer.